Article provided by: Giant iTab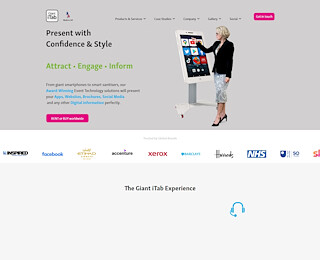 Trade show touch screen displays are not only in vogue, but they're also exemplary lead-generating tools when used optimally. Used properly, technology in trade shows, especially as it concerns an exhibit's display, can make an ordinary exhibit extraordinary and help vendors generate far more leads than they ever could with traditional displays.
Whether you attend a dozen trade shows a year or several dozen; you need a virtual display that grabs and holds your visitors' attention, promotes engagement, is intuitive, and is highly interactive. That's where Giant iTab comes in.
What Can Giant iTab do for My Trade Show Exhibit?
The Giant iTab has many advantages to trade show exhibitors! To start with the; this device, as large as it is, is a light-weight trade show touch screen exhibit. It rests on top of a podium with four wheels at the base for easy transportation. Because it is light-weight, you can pick it up and carry it.
Bluetooth
With Bluetooth enabled, you'll be able to wirelessly share with other devices around you, including smartphones, tablets, and printers. You'll be able to exchange files from device-to-device, just like you would with your Android smartphone.

WiFi
Swipe the screen down from the top to access your quick settings and turn WiFi on when you when you want to connect or go touch the Settings app and enable WiFi manually. The Giant iTab is as fast as the Internet connection it connects to and has no performance limitations. Connect to Hot Spot, data, or WiFi at any time.
Home Screen
The Home screen is the first thing that your trade show exhibit visitors will see. This can be an app, an image, a website, a Web page, a .pdf file, a Facebook page, a YouTube channel, or anything you want it to be. Even once you've navigated away from your Home page, you'll be able to go back with a single touch when you want to.
Giant iTab is a Trade Show Touch Screen that Stands Out
The Giant iTab is an attention-grabber, as it was designed to be. It is a giant iPad trade show touch screen display that encourages trade show guests to stop what they're doing and notice you. It eliminates the need for vendors to be overly outgoing unauthentically friendly. With Giant iTab, just let the trade show guests come to your exhibit! All you'll need to do is greet them and strike up a conversation. Show them how to use it while demonstrating your products and services.
Giant iTab is Interactive
Giant iTab is a trade show touch screen display that will pick your visitors' eyes up from the ground and have them looking around at your exhibit. It takes the highly personal experience of smartphone use and replicates it on a larger-than-life scale, making the personal cell phone experience a group experience. Branding at trade shows has never been better! Contact the creators of Giant iTab today to learn what it will take to have one at your next trade show.
Trade Show Touch Screen
We welcome your comments!